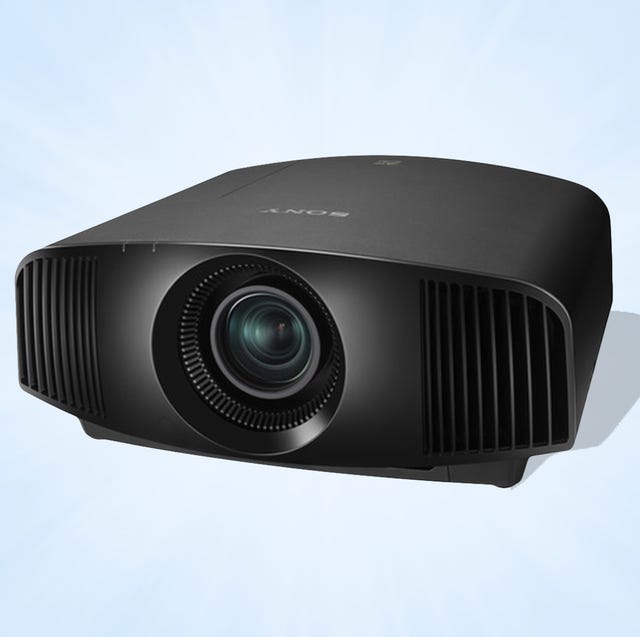 Courtesy
TVs run big. You can get nearly seven feet of screen mounted to your living room wall, stretching towards the windows and walls, requiring you move your whole head to follow the scoring touchdown pass or the superhero launching herself across the screen. But big TVs have nothing on projectors. Projectors go huge, most covering swaths of wall territory. And we're not talking those shaky, beige-colored projectors your college prof used to explain microeconomics to a 400-person lecture hall. Just like all great TVs in 2020, these projectors are 4K.
Or rather, for all intents and purposes, they are 4K. Let's over-simplify things for a moment: To have 4K resolution, a TV screen must be able to fit 3,840 pixels horizontally and 2,160 vertically; that's about 8 million pixels total. A whole lot of pixels. But TVs have all those inches of screen real estate to pull it off. The chips inside projectors are much smaller, so there is literally less room for cramming the 8 million pixels required to project in 4K resolution. Nearly every single 4K projector company uses a workaround technology called "pixel shifting" to achieve what is damn near exactly 4K resolution to the naked eye. If you can tell the difference between it and genuine 4K picture, your eyesight is that of a hawk, not a human.
Beyond the pixel technology, there are other projector features to consider, including smart tech, Bluetooth connection, and lumens. You'll want to think about how far and at what angle you'd like to set a projector up from the wall, and check projector "throw" distances to make sure it works. You'll also want to think about how big a picture your projector should cast and in what environment you'll be casting that picture—a darkly lit, subterranean movie lair, or your family room. For the size, these projectors are less expensive than grandiose 4K televisions, though you'll want to buy a screen, and most likely a stereo system, to round out the setup. And, this goes without saying, but make sure you've got access to movies, television, and video games in 4K.
It is a lot to think about. But then, about the same amount of brain power goes into buying a 4K television. To get you started, here are four 4K projectors at different price points to consider, whether you want to stream the game under the full moon, immerse yourself in Ghost of Tsushima, or hunker down to watch Apocalypse Now "like it was meant to be seen."

Advertisement – Continue Reading Below
TK850 True 4K HDR-PRO Home Entertainment Projector
BenQ
amazon.com
$1,492.99
This BenQ projector illustrates the difference between a projector that's built for a brightly lit, oft-used living space and a dedicated home theater. It's ideal for the former, with 3,000 lumens of brightness to ensure crisp, vibrant color in sunlit rooms. (Its brother 4K projector, the HT3550, is engineered to emphasize cinematic color experience instead, making it best-suited for always-dark rooms.) For the relatively low price, BenQ also built in a sports-watching mode that'll enhance motion and de-blur action.
HU80KA 4K UHD Laser Smart TV Home Theater CineBeam Projector
You can browse loads of good portable projectors, but most won't offer you 4K. This LG contender is one of scant options that does. It projects images up to 150 inches across—that's about twelve feet—in gorgeous color, and with 2,500 lumens, it'll work in brighter rooms as well as the dark ones. You can stream basically anything to it, because it is Bluetooth enabled, and it functions as a smart TV, too. On a final note, it has a handle. What'll they think of next?
4K UHD Laser TV Home Theatre Projector
VAVA
amazon.com
$2,799.99
If your space is crammed, this projector—a crowd-funded effort that has plenty of fans—could be the best fit. It's an ultra-short throw projector, which means you can set it fairly close to your screen and still project up to a 150-inch picture. The picture quality itself is great, though not industry-best, and you'll likely need to play around with the settings before you find the ones right for the room.
VPL-VW295ES HDR DCI 4K SXRD Home Theater Projector
Sony
bhphotovideo.com
$4,998.00
Purists will flock to this "native 4K" projector, the only 4K projecter that is actually, truly 4K—no pixel shifting required. It's the one you ought to spring for if you want to bring the IMAX experience into your home. Speaking of, it's compatible with IMAX-enhanced media. Beyond that, this Sony machine features nine different picture modes (like "theater film" and "game"), a 3D transmitter, 1,500 lumens to ensure vibrant images in brighter rooms, and the ability to project an image up to 300 inches across, which is absolutely ginormous. It's expensive, but compared to an equivalent 4K TV, that's nothing.
Subscribe to Esquire Magazine
This content is created and maintained by a third party, and imported onto this page to help users provide their email addresses. You may be able to find more information about this and similar content at piano.io
Advertisement – Continue Reading Below